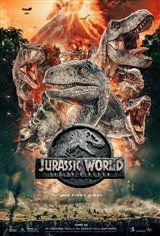 Jurassic World: Fallen Kingdom
| 109 Reviews
Write a Review
In Theaters: June 22, 2018
On DVD/Blu-ray: September 18, 2018
3.64/5
Based on 404 votes and 109 reviews.
Please rate between 1 to 5 stars
Showing 1-10 of 109 reviews
April 3, 2022
Good movie. Can`t wait to see dominion but this one is good. lovie the first one. 4 stars.
February 12, 2021
This movie is the best thing ever! The whole production looked awesome, the CGI and the acting. I like the original Jurassic world plot a little more, but the acting on this one was 1000 times better! Hurry up and make the next one!
February 12, 2021
This movie is incredible! Don't listen to all the other bad reviews. If people hate the whole Jurassic saga so much, they shouldn't have watched the movie in the first place. P.S Chris Pratt is the best
September 21, 2018
The same stupid woman from the last terrible movie? Remember running around the jungle in a white dress and high heels and lots of bad makeup? Boy, the quality of movies in the last two years is TERRIBLE>
August 22, 2018
Weak plot (even for this franchise) with far too many nods/throwbacks to previous films. Very pretty to watch, but obviously just a set up for a sequel. Note this was confirmed by the director this movie's release. It's not bad like JP3, just not great and with a giant sized plot hole
August 15, 2018
Enough is Enough ! I had it with these Dam Dino's !
August 13, 2018
The ethical dilemma wasn't really a dilemma at all. The plotline was stupid and I left very angry at the ending. There's only dino on dino death and the only humans getting eaten are the bad guys. Very unrealistic for a movie which purports to show the real world effects of unleashing dinos into society. The CGI was good but I didn't care about any of the characters and kind of hoped they would all get eaten.
August 12, 2018
T-Rex and Raptors stepping in to save Pratt...The END! Boring, but CGI was great! Story was OK.