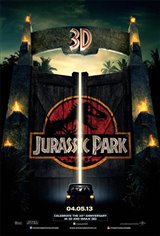 Jurassic Park 3D
20 Reviews
|
Write a Review
In Theaters: April 5, 2013
PG-13 | Action, Adventure, Fantasy, Science-Fiction, Thriller | 2h 7m
3.86/5
Based on 60 votes and 20 reviews.
58.62%

6.90%

13.79%

3.45%

17.24%
Please rate between 1 to 5 stars
Showing 1-10 of 20 reviews
April 30, 2013
It was better in 2D.... 3D was very poor. But nice to show the kids in big screen.
April 24, 2013
Good movie, but the 3D didn't make enough of an impact to warrant seeing it in 3D.
April 14, 2013
Awesome movie! I love how much work and creativity goes into old movies. The dinosaurs still looks pretty cool for a movie from the early 90s. Love the scene with the T-REX and the Jurassic Park banner!!!
April 13, 2013
one word: awesome and 3D gave the movie a much needed edge. Childhood moment relived... off to watch Evil Dead now Ftw
April 13, 2013
The first one blew me away,Not enough word to describe this one so I will just say it is breathtaking...
April 11, 2013
I've seen this movie before but the 3D experience had me jumping out of my seat. Loved it!
April 10, 2013
Best 3d ever seen can't wait till Jurassic park four comes out next year and faltered give the creeps see thi movie
April 7, 2013
"Hold on to your butts" lol Same timeless flawless movie I grew up with but with well converted 3D to make everything pop and it adds layers to the dimensions. Ian Malcolm is still the best!
April 7, 2013
Would love to see this but I can't stand 3D! Anyone know if they plan to release a non-3D version?
April 7, 2013
Great 3d awesome same great movie who don't like it for shame