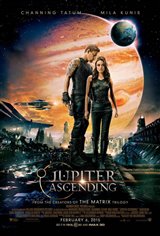 Jupiter Ascending
37 Reviews
|
Write a Review
In Theaters: February 6, 2015
3.32/5
Based on 116 votes and 37 reviews.
39.62%

16.98%

7.55%

7.55%

28.30%
Please rate between 1 to 5 stars
Showing 1-10 of 37 reviews
March 29, 2018
It can´t decide if it wants to be funny lighthearted sci-fi movie for teenagers or dark movie about aliens farming people and kill them for the purpose of living "forever". It feels like several movie packed into one. The topic of aliens farming people has a good potential, it just requires someone who would make it a dark, sci-fi horror for adults only. I would like to see that.
August 31, 2015
Great movie, action packed and great story line.
June 15, 2015
Really fun movie. Great special FX and good story telling. If you're a Sci-Fi fan of any kind you'll enjoy.
June 8, 2015
The story was all over the place. Nothing was very clear! :(
June 7, 2015
Loved this movie the action started right away..
May 25, 2015
Loved it! The story is deep and keeps you thinking even after the movie is over. Visually, a beautiful movie!
May 17, 2015
Horrible movie, part of your life you can't get back!
May 4, 2015
Great movie with stunning CGI and fighting scenes
April 25, 2015
I couldn't even finish it. Bad acting and unlikeable characters. It's a poor man's star wars. Listening to the villain was painful and Channing Tatum's mumbling made a bad movie worse.
March 6, 2015
Wonderful costumes, superb pace & great special effects. However, we thought that the plot was chaotic, mind boggling, disappointing drivel.