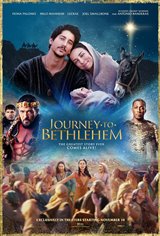 Journey to Bethlehem
17 Reviews
|
Write a Review
In Theaters: November 10, 2023
4.21/5
Based on 56 votes and 17 reviews.
75.00%

7.14%

0.00%

0.00%

17.86%
Please rate between 1 to 5 stars
Showing 1-10 of 17 reviews
November 28, 2023
There is nothing I could say about this movie. It was absolutely amazing. I would recommend this movie to all.
November 28, 2023
It was all good, but they should have ended it at the birth of Christ. But I did enjoy it immensely.
November 22, 2023
Uplifting & joyful. Leaves you happy & full of hope!@
November 21, 2023
Story of couse. Very comprehensible. Beautiful songs and singing. Acting so personal. You could relate to what was happening. Appropriate comedic touches. Whether you believe or not, eveyone should see this movie.
November 20, 2023
I don't get it.
November 19, 2023
LOVED IT!
November 19, 2023
Bizarre
November 17, 2023
Enjoyed the songs as one who loves musicals. It is very lively and never boring. One thing is that it brings out the deep emotions of each character throughout the plot and even brings tears to the eyes. The special effects are fantastic and breathtaking. We need great Christian movies like these.
November 14, 2023
Was so well done, choreography wonderful, music and singing phenomenal, a beautiful and tender Christmas story, with drama and comedy all rolled into a great performance.
November 14, 2023
Strange and not in a good way.