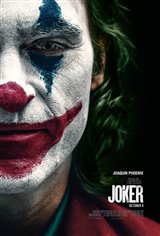 Joker
| 264 Reviews
Write a Review
In Theaters: October 4, 2019
On DVD/Blu-ray: January 7, 2020
3.75/5
Based on 940 votes and 264 reviews.
Please rate between 1 to 5 stars
Showing 1-10 of 264 reviews
August 13, 2021
I do know a great movie when I see it, but this sure isn't great. In fact, it's terrible! The multiple endings are another drag. Shallow trash. The unhinged and hair-lipped reminder of what might have been Phoenix isn't bad, but anyone who thinks he is great in this doesn't know the first thing about acting...or quality for that matter. It is truly mystifying how overpraised this trash is.
October 2, 2020
These fake 1 star reviews should be removed. Even if psychological thrillers are not your cup of tea you should be able to recognize a good movie and great acting when you see it.
September 24, 2020
I don´t get quite low rating, it´s perfect psychological thriller and Phoenix´s performance is Oscar worthy. Or worthy of some prize which didn´t become irelevant yet.
February 16, 2020
2 stars for the last 20 mins,, before that,, well, lets just say you can just watch the last 20 minutes, and still understand this movie,, no part 2 needed.
February 12, 2020
Phoenix was excellent. The movie was very dark, and at times cringe worthy. The theater was PACKED and you could hear a pin drop when the volume was down. The audience was glued to the screen. Worth seeing, but it is dark.
February 9, 2020
Darkest worst movie I've ever seen.
February 8, 2020
Not a masterpiece, not without its flaws... but "Joker" is impactful, and unforgettable. "Joker" is a powerful work of art that grabs ahold of the viewer tightly and forces them to inhabit the bleak and dismal dystopia that is Gotham City for a grueling two hours. This movie is only for you if you wish to be challenged emotionally, and if you are open to being immersed in uncomfortable realities that you may not be familiar with. Joaquin Phoenix disappears, as he transcends acting and embodies Arthur Fleck. Your heart with ache, and it will thump. You will feel compassion, desolation, frustration, fear, and fleeting moments of triumph. "Joker" is an eye-opening experience that demonstrates what happens in a world devoid of kindness and understanding.
February 5, 2020
boring trash , not entertaining , save your cash
February 1, 2020
4 star once again.Joaphin Phoenix is wonderful actor that keeps you riveted..you can see he is trying VERY hard not to totally lose it at first.Liked the way it was setting things up(I hope) for future Joker movies.?
January 31, 2020
This movie actually does justice to the character, and though it doesn't follow the original comic story, it builds to a frighting crescendo. Already dancing on mental knife blade the character is subjected to life's indifferent meat grinder until bone snaps, blood gushes, and our Joker is born. An excellent study in bulling, the modern phlegmatic attitude, and mental illness. This is not a fast moving, tweenie, superhero movie. It is a slow burn into the hell of madness.