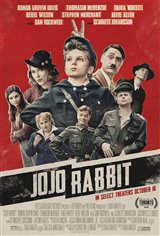 Jojo Rabbit
| 62 Reviews
Write a Review
In Theaters: October 18, 2019
On DVD/Blu-ray: February 18, 2020
4.01/5
Based on 194 votes and 62 reviews.
Please rate between 1 to 5 stars
Showing 1-10 of 62 reviews
July 21, 2020
Offended by the film? Let have film and book burning like the .....the Nazies did?? You are still offende? Then you are just as bad as the Nazies
February 18, 2020
Mediocre film with some very nice bits; unfortunately, it's silly, not historically correct (The russian army and american army did not go into combat together for example) and you have to yawn at his mommy's fate...being too stupid to live.
February 17, 2020
An unusual film that combines humor and drama that is deeply touching as well. The cast was superb, as was the screenplay and cinematography, and the message against hatred, propaganda, and mindless groupthink is very relevant today. Highly recommend it!
February 16, 2020
It was so scattered, not much I liked at all! The young boy is a very good actor.
February 15, 2020
Yawn fest. Boring
February 15, 2020
Why go and watch this film to be offended when it's clear what the setting of the plot is?! Typical uptight snowflake politically correct restrained people who show how they are ignorant by not researching beforehand. You go out to find what interests you and to enjoy, not to look for what will offend you. People offended by this film or any that don't go with what they like are also committing the huge crime of wasting people's time and space by appearing and buying tickets when they should know it will "offend" them. But about the film, early on it was in danger of going down the disastrous path of trying hard but not generating humour making it awkward and sad. However, the writers and producers saved it by clearly demonstrating sarcastic humour almost Napoleon Dynamite style, and that made viewers "get it" and that alone created laughs. As the film continued, it started gaining points as the storyline and writing became more serious and produced more content. Overall, the writers and producers saved the film. It's not going to be a legendary film by far, but it did its job of making for a nice time at the movies, and reminding us that no matter what, we cannot let war and disrespect win. It's too bad the rating scale wasn't out of 10, as it is more fair. 3.5 stars here (it doesn't seem to allow halves).
February 13, 2020
so this is humor in 2020 , my family went through this
February 13, 2020
Awesome movie. Well written, Well done. Great acting. Cast was perfect. Love the way the Fanaticism Towards Hitler. Blind Loyalty. Plus Mel Brooks loved it.
February 13, 2020
Pure garbage don't waste your time or money!
February 11, 2020
THis is not funny material. It disgusted me and we walked out just after a few minutes. This is not a comedy, my father who served in World War 2 would think that people today don't cherish those people who fought against this monster !