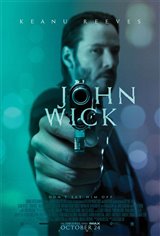 John Wick
53 Reviews
|
Write a Review
In Theaters: October 24, 2014
3.72/5
Based on 138 votes and 53 reviews.
35.82%

29.85%

14.93%

8.96%

10.45%
Please rate between 1 to 5 stars
Showing 1-10 of 53 reviews
November 26, 2016
He so bad ass in this film....great movie....simply classic...
November 26, 2016
Awesome movie ...waiting for John Wick 2 ....I am big fan of Keanu Reeves...
October 6, 2015
Good action, story....Keanu is awesome. I don't know why Tom Cruise is so popular. Go figure!
May 30, 2015
I loved this movie ! Keanu reeves is awesome in this movie
February 14, 2015
It kinda had a "Kill Bill" like vibe to it. Full on action practically throughout the whole movie. A definite guy movie, but as a girl at least it draws you in at the beginning with some emotion or I probably wouldn't have watched it. Keanu is straight laced as usual - at least he got mad in one scene at least (not really a big fan, but he does action well enough, but not emotion). The stunts and fights are flawless, and some great car/gun scenes as well. Kinda corny at times, but in a good way.
February 8, 2015
One of the worst movies I have ever seen.
February 7, 2015
awesome - he's back can't wait for the next one
January 26, 2015
It's one of those movies that is SOOOO BAD & SOOOO CHEESY its AWESOME.
January 22, 2015
good show gets right to it lots of action such wicked stuff in this movie that the car he drive at the end of the show has no engine transmission or drive train now thats a wicked car lmfao
January 11, 2015
Awesome... good action movie.