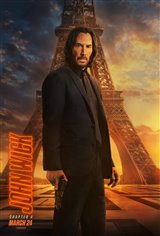 John Wick: Chapter 4
| 53 Reviews
Write a Review
In Theaters: March 24, 2023
On DVD/Blu-ray: June 13, 2023
3.58/5
Based on 172 votes and 53 reviews.
Please rate between 1 to 5 stars
Showing 1-10 of 53 reviews
May 26, 2023
John Wick: Chapter 4 is a pretty good action movie and it delivers exactly what you would expect. I left the theater with 2 questions: #1-What is the police response time in Paris? #2-What was the final body count? 500? 1000? Who's to say? Confession: I somehow dozed off after about the first 300 kills and might have missed a couple of hundred. Miraculous considering all the gun blasts going off.
May 19, 2023
John Wick is the best!
May 15, 2023
enjoyed the movie overall, but the plot was too convoluted with too many side plots. as usual the fighting and staging were top notch, but there were just too many of them. Surprise and satisfying ending.
May 11, 2023
Absolutely loved it!!
May 7, 2023
I dont know why I love these movies so much but I do and I love keanu! Well done sir
May 4, 2023
More hand -to-hand combat & shootouts than any 10, maybe more, movies combined. I chuckled several times in disbelief in the creative & violent ways people died, especially in a heavilly trafficked street in, I think, Paris. I do have to compliment the sometimes well choreographed hand to hand combat. If violence upsets you, this is not a movie for you.rh
May 4, 2023
It was so great! There's has to be a John Wick 5!
May 2, 2023
Keneau you've lost your Way. Is this ALL that being an actor Means to you? Fat paydays and DAMN the content? I always though of you as one of the more quirky, 'out of the Mold' actors who PICKS his parts based on Personal Beliefs, working w/some talented writers & directors, and people with Imagination, Courage and Purpose. Not just (4??) DOSE after DOSE of guns, killings and Violence. Great Message. Here's one: Thou Shalt Not Kill.
April 27, 2023
Next to no plot. Acting is formula and "i only work here" level. Lots and lots of shooting. Intelligence of zero is only required to watch.
April 27, 2023
This movie was amazing from start to end. Loved it enough to go see it around 5 times and will see it at least once more before its out of theaters. The entire John Wick series is a masterpiece in my eyes, I'll always go back to them.