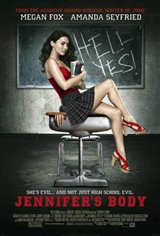 2.19/5
Based on 447 votes and 46 reviews.
Please rate between 1 to 5 stars
Showing 1-10 of 46 reviews
August 9, 2017
Ridiculous and not scary in the slightest. The script is threadbare and contains some of the worst dialogue ever. Stewie Griffin was right about Diablo Cody.
April 5, 2017
Lazy, stupid, and not scary in the slightest.
February 22, 2017
Total failure. But Diablo Cody wrote the script, so what do you expect?
December 4, 2016
Wretched excuse for horror written by the supremely untalented Diablo Cody. Strongly reminiscent of the similarly terrible GINGER SNAPS. Terrible!
September 27, 2012
Fox is beautiful...but the movie sucked!!
November 19, 2011
silly...but fun
July 28, 2010
I love this movie. It's exactly like something that I would make, were I a horror filmmaker. In fact, the story and character design of Jennifer are a little bit similar to a graphic novel that I wrote, but that is neither here nor there. Diablo Cody's dialogue is really one of a kind, and I find the characters she creates very endearing. I'd be willing to watch anything they did. The villains in this movie are at once diabolical and completely mundane, and it's kind of hard to say whether the monster-fied Jennifer is any more intimidating than the old Jennifer. Needie, while being one of the least interesting characters throughout the movie, turns into one of the most formidable Final Girls
March 8, 2010
fast moving and pretty good storyline.
February 18, 2010
i love this movie megan is so hott!!!!!!! overall an amazing movie!!!!! i may be a girl but i love her
January 1, 2010
I loved this movie and I Love Megan Fox