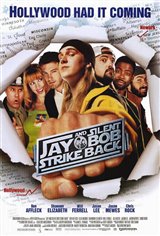 Jay and Silent Bob Strike Back
20 Reviews
|
Write a Review
In Theaters: August 24, 2001
R | Comedy | 1h 44m
3.4/5
Based on 1702 votes and 20 reviews.
43.56%

9.99%

8.39%

18.85%

19.21%
Please rate between 1 to 5 stars
Showing 1-10 of 20 reviews
January 9, 2017
Smith's films are juvenile but are also clever and have a whiff of sophistication. This one is horrible. Lazy and unfunny. Smith has made a film that is hugely self-referential but doesn't credit the audience's intelligence. Easily Smith's worst.
October 12, 2006
I thought I would hate this movie, but I thought it was so funny. I thought it would be one of those movies that is so stupid that you just can`t enjoy it, but I did. If you liked Dogma, then you`ll like seeing more of Jay And Silent Bob.
June 26, 2005
yer the movie was sweet as .jay and silent bob are the madest men alive.
June 20, 2005
Amazingly funny, never gets boring
December 3, 2004
WHERE`S THE PLOT?
April 26, 2003
this is tha BOMB!!!! they are friggin hilarious!!!!! and u all know it too!!!!!!! but, man, getting Ben Affleck on there, was just genious, and, man, just let me say, that if i had the money, i would definatly put up a website all about it!
October 25, 2002
funniest dam movie ever.
July 22, 2002
THE MOVIE WAS DA BOMB!!!! GO KEVIN AND JASON!!! YOU GUYS ROCKED!!!
April 30, 2002
Disappointing. Kevin Smith`s movies are great, but this one is a little too silly.
March 31, 2002
IT ROCKS YEAH!! I like the first song!