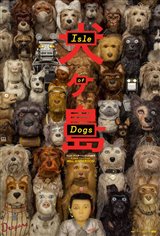 Isle of Dogs
| 24 Reviews
Write a Review
In Theaters: March 23, 2018
On DVD/Blu-ray: July 17, 2018
3.88/5
Based on 56 votes and 24 reviews.
Please rate between 1 to 5 stars
Showing 1-10 of 24 reviews
December 26, 2018
Very entertaining. Wes Anderson's films are always weird, but in a really unique, fascinating way. I really enjoyed this one, even if it was animated.
May 10, 2018
A wonderfully animated film that's a sure hit with dog lovers. Isle of Dogs is a one of the best examples of stop motion cinematography and well deserves the kudos it has received for its style, story, and direction. Those who have criticisms of this film should get over the petty political correctness that they have used to analyze what is just a fun film with an endearing story.
May 8, 2018
I loved this boy found his beloved pet. No easier movie for little ones. This movie is for adults and teenagers. People are used to watch those boring Disney movies and think that all anime's movies are for little ones. All in pink and cute. This movie was well done. Excellent animation.
May 8, 2018
I love Japanes stories because they are more serious showing things. Yes dogs were having a bad life. No the movies fault if people don't read the rate ages. I thin this movie was hard but sweet at same time. Justice finally helped the dogs.
May 8, 2018
I made the mistake of not noticing the PG-13 on this movie. My daughter and I watched the trailer and it seemed like a movie for an 8 year old. We walked out 5 minutes into the movie. Just because they were cute puppies didn't make them foul mouthed. Don't make the same mistake I did.
April 29, 2018
Excellent movie. Sad story. Well done anime scenes but please don't bring your little ones to this movie. This is not a Disney movie.
April 29, 2018
"Isle..." is rated PG-13. That means DO NOT bring your grandchild expecting some sweet Disney goo. It is a wonderful movie with adult themes and adult appeal. Sheesh.
April 27, 2018
Wow, something like you never seen before. At first, I didn't like it, but by the end I did. You just have to be open minded to the kind of art and vision the director had for this piece. Once I adjusted, I got it. Excellent,well done!!
April 26, 2018
Excellent movie!
April 26, 2018
If you are a millenial technophile, ADHD, multi screen, 2 second attentionspaner who believes that an overbearing obnoxious disrespectful American teenager can organize a bunch of fearful Japanese children to bring down a corrupt government and rescue cute puppet dogs from macabre Japanese warlords, then this is a great movie for you. I was dupped and depressed when I left the theatre.