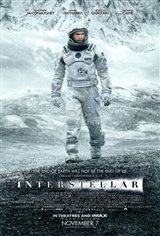 4.05/5
Based on 556 votes and 124 reviews.
Please rate between 1 to 5 stars
Showing 1-10 of 124 reviews
August 25, 2020
Best movie and my favourite movie ever. Nothing will beat this. Thanks to Christopher Nolan, Hans Zimmer and the entire cast and crew for creating this masterpiece!
January 22, 2017
The greatest movie of all time! Amazing special effects, a story line that will make any child dream of the future, and a touching story.
June 14, 2015
If you are into science / physics/ quantum mechanics or just generally like to stretch your brain while being thrilled. Then, I can imagine you will love this movie 5/5!
April 26, 2015
Excellent. Good story, great acting, and genuine emotion. Totally worth the extended run time. Watch this movie.
April 4, 2015
We watched this movie and were completely absorbed. Great story, amazing graphics, great soundtrack, flawless pacing, beautiful character development. Believable and authentic. We're buying the Blue Ray for our SF collection. Highly recommend this movie for SF fans...
April 4, 2015
This was an awesome movie. I can't say enough good things. I don't usually give a movie 5 stars but this blew my mind. You have to think during this movie and it also touched your emotions and humanity. For a thinking movie that is hard to do. The cast was amazing as well. More people should watch this and understand that life as we know it begins and ends with us. We just have to stop thinking in our own dimension.
April 2, 2015
Really good movie, makes you think.... Isn't that what it's all about?...
February 28, 2015
This movie is really underrated, because its a motherf**king masterpiece! 4th best movie of the year in my opinion!
February 17, 2015
Some leaps of science in terms of believably but overall a great yarn with spectacular effects and thought provoking situations of time.
February 9, 2015
This movie is awesome! I loved it. If you like watching space mission movies Interstellar is the one for you!