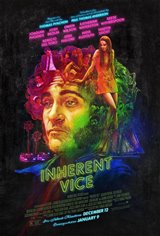 2.53/5
Based on 36 votes and 11 reviews.
Please rate between 1 to 5 stars
Showing 1-10 of 11 reviews
May 2, 2015
I really like this. Then again, I also liked Pulp Fiction, ... The multi-plot became complex because the movie was squeezed into such such a small timeframe compared to the development it treid to bring us. If they could've had a real 3-hours, then the development of other characters, such as Martin Sheen's,... would've provided for more and better dark-humour,..., but still it was a commendable effort. I thought Phoenix played a great 70'z slightly druggy, rebelious, product-of-the-culture PI, the whole thing was a realistic trip, and Buzz-cut Brolin was fantastically stereotypical -really, the whole gelling of the cast was interesting. The life and death fight scene between Phoenix
April 30, 2015
With all the talent in this film one would have thought it would have been a great film... For me it was a total waste of my money ... Should have read the reviews first. What a waste of time and bucks !
February 3, 2015
weird weird weird and strange, a movie that is a road to nowhere and when u get there it will make you feel empty and filthy, as i walk out before the movie ended as i was thinking about it a little before, i was hoping it would get better but didn't, Cinematography was good the acting was good as it was like a B movie feel but with a list actors if it wasn't weird like i said before would have given it a better rating 2 and a half stars as i wont be waiting with a smile on my face when it comes out on dvd :(
January 21, 2015
One of the worst movies ever. Had no idea what the story line was. The acting was good and enjoyed the cameos, but the movie made no sense! The gratuitous sex scenes were crude, not funny.
January 17, 2015
I was so disinterested in this movie that I left after one hour. My husband remained as he hoped it might improve. But it didn't. Don't waste your money or your time.
January 13, 2015
Will probably become a cult classic someday but ..... for the moment not so much.
January 10, 2015
I should have been wary from the great list of cast but I saw it anyway because I do enjoy the off-wall performances of Joaquin. To say this movie was even too off the wall for me would be an understatement. It was too complex with hard to understand lines. Although well-acted the story was not worth the time spent of 21/2 hours. I did enjoy Josh Brolin's performance. Bizarre stuff. If you are into the drug culture of the 70's you may get something out of it.
January 10, 2015
It really sucks! Don't waste your money and your time....
January 10, 2015
This movie has a great cast and great acting with an awesome story that keeps you guessing.
January 9, 2015
Masterpiece. Great music. Phoenix is insanely good.