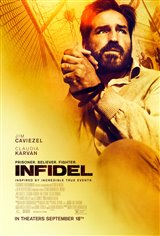 Infidel
| 16 Reviews
Write a Review
In Theaters: September 18, 2020
On DVD/Blu-ray: December 15, 2020
4.65/5
Based on 40 votes and 16 reviews.
Please rate between 1 to 5 stars
Showing 1-10 of 16 reviews
October 17, 2020
This is NOT churchy or too Christian as a couple of reviews state. This is more about what happens if you say Jesus is God; and the radical Muslims believe it is their right. The movie is VERY suspenseful after the first 10 minutes. All 4 of us that went to see it thought it was excellent - and an eye-opener for the other couple who didn't know what goes on with radical muslims.
October 13, 2020
Had nothing to do with pro-christian as the 2 star anti-any religion idiot states. Please, some reviewers grow up. The theme is about an abduction of an American for making a statement about Jesus & some radical Shiites ( the main religion in Iran ) get upset. , to put it mildly. Well made (based on true events) movie with many suspenseful moments. in-spite of the inaccurate negative criticism. Some people have no perception of what a movie is about. They should try grown-up school. rh
October 9, 2020
Well done.
October 9, 2020
I disliked the profanity, but it was very well done. Suspenseful from start to finish. i really liked how in the end he prayed and showed compassion to his dying enemy. I love true story movies.
October 3, 2020
Excellent movie based on more than one story. Shows how we need to stand up for our Faith in a NONviolent matter...never back down for your beliefs. Movie has lots of violence but it is needed to get the point across.
October 3, 2020
Based on true events. Incredible acting.
September 27, 2020
Incredible true story! Great acting and you will be on the edge of your seat. One of Dinesh D'Souza's best works!
September 27, 2020
MUST SEE!
September 25, 2020
Best movie ever. Great acting. Great production. Jim had to go through a beating.
September 25, 2020
Lot of action & suspense.