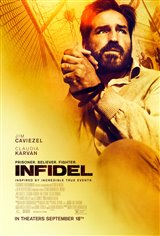 Infidel
10 Reviews
|
Write a Review
In Theaters: September 18, 2020
4.5/5
Based on 26 votes and 10 reviews.
80.00%

0.00%

10.00%

10.00%

0.00%
Please rate between 1 to 5 stars
Showing 1-10 of 10 reviews
September 27, 2020
Incredible true story! Great acting and you will be on the edge of your seat. One of Dinesh D'Souza's best works!
September 27, 2020
MUST SEE!
September 25, 2020
Best movie ever. Great acting. Great production. Jim had to go through a beating.
September 25, 2020
Lot of action & suspense.
September 21, 2020
The lead actors did not create emotional connections with me. Each character was either all good or all bad. Caviezel's (Doug's) Christianity was not compelling. It must have been a miracle, however, that Doug could have been beaten so badly, so many times and yet retain his spotless complexion in several of the subsequent scenes. A tolerable combination of an action, suspense and pro-christian movie but not great in any category.
September 21, 2020
This shows that a movie maker can cover non-secular topics in an entertaining way without being overly preachy with the audience. Those who are offended at the mere mention of religion notwithstanding.
September 20, 2020
Excellent movie, keeps you going and cheering for the good guys to win.
September 19, 2020
Awesome - action packed movie. Very tense.
September 18, 2020
Too churchy for my taste.
September 15, 2020
The premise.