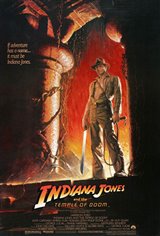 Indiana Jones and the Temple of Doom
8 Reviews
|
Write a Review
In Theaters: May 23, 1984
2.38/5
Based on 283 votes and 8 reviews.
28.85%

4.62%

3.08%

2.31%

61.15%
Please rate between 1 to 5 stars
Showing 1-8 of 8 reviews
April 5, 2019
one of my favorite movies! love all the characters, just an overall great adventure movie!
February 16, 2018
Why is the rating so low? I smell trolls here.
August 4, 2008
This movie is fantastic! As good as Raiders of the Lost Ark! Just perfect!
July 20, 2008
THIS MOVIE IS REALLY GOOD
May 28, 2008
Very underated movie, great movie for its genre. I liked even better than the last crusade.
December 2, 2005
Indiana Jones and the Temple of Doom is one of my favorite movies of all time!!! It is exciting and always wonderful to watch! I hate it when people say bad things about this movie. I do not think this is a gory movie like others do because I saw it when I was 6 and loved it! Indiana Jones is soooo handsome! He is the greatest hero of all!
October 27, 2004
I am in the minority, I understand, but I really enjoy Indiana Jones and the Temple of Doom. A lot of people say that ToD is the weakest of the trilogy, but understand that it had a lot to live up to from Raiders. Also, it`s the middle film in the trilogy, sandwiched between a classic and a Hollywood blockbuster. I really feel like Indiana Jones and the Last Crusade would look like a copy of Raiders of the Lost Ark, if Temple of Doom did not exist. In Raiders and LC, we have Indy going after a high profile biblical artifact, in the desert, trying to snap it away from Nazis. (I really feel like everything was found/done too easily in LC.) T
April 13, 2002
my favorite of the series, & that`s sayin a lot since i love `em all.