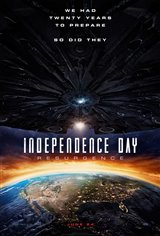 Independence Day: Resurgence
2.9/5
Based on 208 votes and 82 reviews.
Please rate between 1 to 5 stars
Showing 1-10 of 82 reviews
November 8, 2019
One of the best sequels ever.
January 13, 2017
Baddddddd badddd
November 19, 2016
Unbelievable and not in a good way, corny plot tie ins and the only direction the plot took was the wrong direction.
October 26, 2016
What an awful movie. It looked like I was watching a low budget movie, bad acting.
October 23, 2016
very good movie
August 12, 2016
great exciting movie almost as good as the first one
July 26, 2016
Very good special effects..I thought the movie was a good sequel of the first.
July 25, 2016
Why did I watch this? Just like Star Wars, they just made the spaceship bigger. Of course, people are telepathically linked tot he aliens, or how would they possibly figure out their grand plan?...Grrr. Formulaic, bad acting and of course a door is open to a sequel. This flick was a great idea, but it just didn't work out. I'm so disappointed.
July 24, 2016
The low rating on this movie is as improbable as the plot: a majority of the low ratings appear to have been written by the same person. If you're looking for a provocative plot, this movie ain't it. Apocalyptic movies are inherently humorous, so why not write the humor into the script? If you're weighing cost against entertainment value, compromise and go to the matinee for six bucks. The end of the world isn't nearly as compelling on a small screen. the big screen makes it worth the cost. I agree that the action is harder to follow when all aircraft are the same color. It would be helpful if there were some "technology" that created a color distinction in the midst of battle. This movie won't win any awards because there's nothing outstanding about it. It's just good entertainment on a Sunday afternoon.
July 21, 2016
Very good but killing some main characters not good however it was good that Roland emmerish was still director