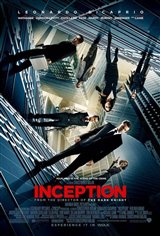 Inception: The IMAX Experience
33 Reviews
|
Write a Review
In Theaters: July 16, 2010
PG-13 | Action, Adventure, Fantasy, Science-Fiction, Thriller | 2h 28m
4.03/5
Based on 204 votes and 33 reviews.
61.17%

11.65%

6.80%

9.71%

10.68%
Please rate between 1 to 5 stars
Showing 1-10 of 33 reviews
October 27, 2010
Great movie. Saw it 3 times to completely understand it. Great on so many levels. Brilliant !!!
October 7, 2010
Amazing! Go see it, you will not be disappointed!
October 1, 2010
3D was much more satisfying.
September 28, 2010
Fantastic images
September 26, 2010
Great movie.
September 23, 2010
This is the best intelligent movie of all time.
September 21, 2010
Mind bending experience. Takes mystery thriller back to its roots. I loved the movie.
September 13, 2010
I liked the main plot of Inception, but I think the many Surperflous subplots detracted from the movie and made it too complicated. Don't like a movie that leaves you feeling you have to see it again just to catch important details. I go to the theatre to be entertained, not mentally exhausted and frustrated.
August 27, 2010
Probably the best movie of the year!
August 26, 2010
Confusing movie if you don't provide it with your full attention.