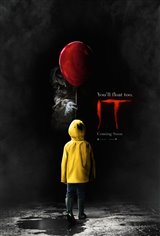 IT
| 325 Reviews
Write a Review
In Theaters: September 8, 2017
On DVD/Blu-ray: January 9, 2018
3.24/5
Based on 1460 votes and 325 reviews.
Please rate between 1 to 5 stars
Showing 301-310 of 325 reviews
September 11, 2017
GARBAGE (0 STARS) GARBAGE
September 11, 2017
I liked this movie as a whole, the acting by all was very well done. I get that there is so much to the story and trying to squeeze it all in 2 hours seems to be impossible, but they did a good job. They could have almost made this first part into 2, developing the plot better. Overall a well done job.
September 10, 2017
Its very stupid. i thought it would be scary but its not even close to scary its too dramatic they make it seem better than it is.
September 10, 2017
Loved it!
September 10, 2017
Original was scarier.
September 10, 2017
Predictable
September 10, 2017
I usually don't go watch horror movies but 'IT' was talked about for so many decades that I had to make sure this horror story is part of my known movies. This is the usual scary movie with a couple of good twists. I am sad there is too little information about who or what is 'Pennywise the dancing clown' and how it came to exist. However, I am glad a good amount of information is given about how and why most of the kids suffer their abusive or neglecting parents. All this without falling into exaggeration or clichés. The scenes inside the 'haunted house' could have been better and so could have been the acting of the older bully boys. Generally a very good movie that has the expected effect.
September 9, 2017
Movie sucked. Way too long and it didn't make sense. Just a lot of jumping around and the clown just randomly appearing. Not scary at all. I was ready to walk out after the first hour and a half but I wanted to stay until the end but staying until the end I didn't miss much. Will not watch again. Thus movie is terrible. Go on cheap night if you must see this movie
September 9, 2017
Really good. Movie wasnt cheesy like the old one. Kids did a good job and pennywise was really good. I wouldnt say it was all out jump scares but more mind scary! Well done!
September 9, 2017
Wasn't as good as the original . The original Pennywise was creepier IMO. There were no jump out of your seat moments which was disappointing . Not up to the usual Stephen King standards ,but then remakes usually aren't .