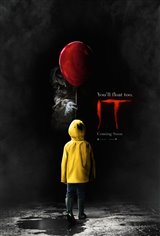 IT
| 324 Reviews
Write a Review
In Theaters: September 8, 2017
On DVD/Blu-ray: January 9, 2018
3.25/5
Based on 1458 votes and 324 reviews.
Please rate between 1 to 5 stars
Showing 291-300 of 324 reviews
September 12, 2017
BULLCRAP AND GARBAGE
September 12, 2017
Excellent movie, well acted by all, good mix of humor and horror, not a movie that will scare you, like all the BS jump scares that are a thing now which don't scare you anyway, because they're all so dang predictable.... Anyway, quality production, quality acting and good writing, would have liked a little more source material, but still a very good movie.
September 12, 2017
WORST MOVIE EVER AND GARBAGE
September 12, 2017
Acting and story was great. Horror wise, it was OK, not as good as some of the newer horror films out there. I thought it was an improvement on the old one. Let's not forget the original for some of these folks carries a sentimental value. In conclusion yes this was worth watching in theaters, we enjoyed it.
September 12, 2017
Watchable. Not as cheesy as the tv adaptation, but still way too long. King's novel had some scary stuff in it, but it was also bloated, pretentious, and rife with superfluous and pointless nonsense. Why do people care how faithful the film is to the novel? If anything, film adaptations should betray the source material.
September 12, 2017
SAVE YOUR MONEY
September 12, 2017
The actor that played Pennywise did a fine job but of course no one could replace the iconic Tim Curry. The rest of the casting was great; the kids did a wonderful job. A bit closer to the source material than the original movie, but still not quite close enough. Still nobody has touched that Derry and the people in it are the real reason IT is so powerful. More creepy than scary; also literally no reason for the dad to be so rapey, he's not like that in the books.
September 12, 2017
Not very scary, but still a pretty good movie; the kids did a really good acting job. You can't beat Stephen King books but I think this movie is difficult to turn into a movie. Still worth the money in my opinion and will go see the next chapter.
September 12, 2017
This movie is very well done, I have Coulrophobia as many people do .NOT a movie for young kids or anyone with this phobia.
September 11, 2017
GARBAGE (0 STARS) GARBAGE