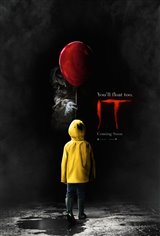 IT
| 325 Reviews
Write a Review
In Theaters: September 8, 2017
On DVD/Blu-ray: January 9, 2018
3.24/5
Based on 1460 votes and 325 reviews.
Please rate between 1 to 5 stars
Showing 281-290 of 325 reviews
September 14, 2017
Had lots of scary moments, good CGI. Stephen King's anti-bullying and anti-child sex abuse subplots loud and clear. Missed some of the dialogue because of young kids (about 10yoa ) in row behind me talking. PG-13 graphic violence/child endangerment not R imo. DuWayne, Lakeland,FL
September 14, 2017
Not as good as all the previews, and top box office hype. Not scary at all, book was better.
September 14, 2017
The original was good, I don't know why they had to remake it. I didn't think it was as good as all the hype around it. The child actors were good in their roles. Too long.
September 14, 2017
Very good adaptation (so far) of the original material. Very scary and excellent characterization.
September 14, 2017
Was not over the top scary like some other movies recently. It had some humorous parts that reminded me of a Freddy Kruger movie and some serious parts that remind me of a old stalker movie like Halloween or Friday the 13th. Either way you look at it, they tried to set it up for all viewers of scary movie types they could. I enjoyed it for what it was and look forward to the sequel.
September 14, 2017
Scared the hell outta me I read the book years ago and it follows the first half of the book perfectly no wonder Stephen King himself liked this movie very well done I almost sh*t my pants
September 14, 2017
Was expecting to be scared....instead ended up laughing. Even parts intended to frighten were funny. Quite disappointing.
September 13, 2017
Good movie. But the crazy mean teens were little off from the movie. I did not like cat part. Still the movie was scary.
September 13, 2017
Awesome horror movie, it has now become my most favorite horror film and put the conjuring down to second place. Bill Skarsgald as penny wise was a perfect choice, all of the actors did justice to their characters. I can especially guarantee that the young actors in this movie will one day be big names in Hollywood. This is the first horror movie in which I truly felt for the characters, especially young Georgie. Overall., great movie, will definitely buy it on DVD