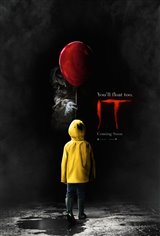 IT
| 325 Reviews
Write a Review
In Theaters: September 8, 2017
On DVD/Blu-ray: January 9, 2018
3.24/5
Based on 1460 votes and 325 reviews.
Please rate between 1 to 5 stars
Showing 261-270 of 325 reviews
September 21, 2017
waste my time
September 19, 2017
What a joke! Might be enjoyed by a ten year old!
September 19, 2017
It was good and scary! I own the original on dvd, it's not nearly as scary granted, but still very good. Is it just me or did they leave it open for a Part 2? They did not kill Penny Wise when they were children, in the book and original movie they were grown up and kept their word about returning if it starts up again.
September 19, 2017
"IT" was a super cool scary movie. A must see on your movie list this year! Can't wait for the sequel in 2019!!!!
September 19, 2017
Went with my 18 year old son and found it to be both scary with humorous moments. Definitely had some jump out of your seat parts along with laughter. Great combination and one of the best movies i've seen in quite some time now. Would watch it again but I do recommend seeing IT at a movie theater the theatricals are well worth it. Just can't get the same sitting at home watching it on tv.
September 18, 2017
It had a little bit of everything and was fun to watch with my friends, thank you
September 18, 2017
This is one of the worst movies I've ever seen. Having read some of Stephen King's novels and enjoying them, I agreed to go with several family members. We all thought it as a waste of time and money, with no redeeming features. No one over the age of 12 would find "It" scary and it isn't really suitable for kids either.
September 17, 2017
If you're looking for a scary movie, keep moving. The worst, most horrific thing about it is when "little Georgie" gets taken by the clown. After that, the movie becomes a teeny-bopper style horror film. I don't think it's the fault of the producer, director, or actors.. I think it's actually just not a very scary story line. I love Stephen King.. but I've never thought this was one of his great stories. I will say there were a few funny parts in the movie though.
September 17, 2017
I went with my daughter that is 21 who hasn't seen original IT and we both loved IT lol . had a lot of unexpected jump out of your seat moments and kept you sucked in to whats going to pop out next through the whole movie thought it portrayed the original very well and would see it again .
September 17, 2017
Best movie I've seen all year so far.