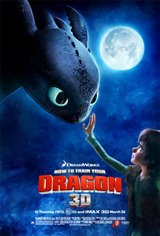 4.52/5
Based on 3549 votes and 298 reviews.
Please rate between 1 to 5 stars
Showing 1-10 of 298 reviews
November 24, 2013
What a dull and lifeless film....
August 12, 2013
An absolutely incredibly wonderful, exciting, beautiful film!!! Loved it Sooo much. Laughed, cried then laughed and cried some more!!!
June 19, 2012
the movie in the beginning was kind of boring, but the movie as a whole as touching and nice. i started to like it when hiccup and the dragon first connected.
May 14, 2011
my dad was in love with this movie...so was i.this should be an OSCAR WINNER
February 1, 2011
What a great, creative, funny movie! Loved every second of it! Visually appealing because of the fantastic animation!
December 5, 2010
Excellent Movie,Graphics and Storyline and really enjoyed it!! I loved the story between Toothless and Hiccup!! They were both wimpy at the beginning of the movie but became the brave hero's at the end! Great Family Movie!!
November 11, 2010
Funny roles, cute moments and enough action to keep yah awake what more could you want?
October 30, 2010
This was an excellent movie - one of the best which I have seen in the last few months.Great family animated movie and great for us big kids too! Toothless is a dragon which looks part cat and acts like a dog. It is a incredible story about the relationship which developed between a wimpy boy and a wimpy half wingless dragon. I highly recommend seeing this awesome movie!!
October 29, 2010
This movie was really entertaining. I like the animation and the story was predictable at times. Not the greatest but still a good time for children and adult alike (I am over 50).
October 22, 2010
excellent movie