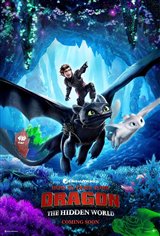 How to Train Your Dragon: The Hidden World
| 29 Reviews
Write a Review
In Theaters: February 22, 2019
On DVD/Blu-ray: May 21, 2019
4.52/5
Based on 138 votes and 29 reviews.
Please rate between 1 to 5 stars
Showing 11-20 of 29 reviews
March 5, 2019
Loved the Animation in this. I was wowed and very nice parts in this movie. I'm not surprised this one has done very well. I saw the other 2 and really enjoyed them but this one was a wow. Dreamworks did amazing Anamation in this. A little comedy and everything.
March 5, 2019
It is AMAZING!!!!!!!!!
March 2, 2019
LOVE this movie! Graphics are wonderful, story-line even better. Not a disappointment to be found. I didn't think the ending was sad at all, instead an encouraging part of real world life in that we all must continue on our journey. Couldn't have written this any better. Kristen Wiigs' scene as Ruffnut had me laughing so hard that I missed half of it. Must see. Must own.
February 28, 2019
I LOVED this movie! Such a good storyline! I have seen the first one, the series, and the second one as well and they are all amazing! Great job DreamWorks! I went to the early screening on Feb.2 as well.
February 26, 2019
Very well done I would recommend it to any age .
February 26, 2019
Awesome, the best , my boy love it
February 25, 2019
now that its sad ending why would i go thats enough sadness in the real world
February 24, 2019
This movie was awesome!!! It is a must watch. No ifs, ands or buts.
February 24, 2019
Kids loved it. Madison liked the hidden world, seeing all the dragons. Ethan like it when the black dragon saw the white dragon. Declan liked everything.
February 24, 2019
The animation in this movie was outstanding. Go see it in the doby theater Amazing.