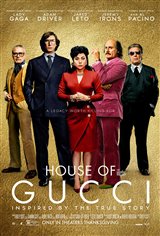 3.83/5
Based on 54 votes and 18 reviews.
Please rate between 1 to 5 stars
Showing 1-10 of 18 reviews
November 27, 2021
It's really good. Every scene is filled with impact
November 26, 2021
I expect much more than a garish exercise in camp when I pay to see a Ridley Scott movie. Embarrassing.
November 26, 2021
Adam Driver and Lady Gaga compete to see who can give the worst performance of the year. Just dreadful.
November 26, 2021
Loved watching it. Lady gaga was amazing as always.
November 26, 2021
It's the year's second-best movie.
November 25, 2021
Look for Salma Hayek to get a Best Supporting Actor nomination.
November 25, 2021
One of the greatest movies of this year, the cast is outstanding, Lady Gaga is just a genius.
November 25, 2021
Spectacular cinematography and brilliant performances. Lady Gaga is definitely the highlight of the movie, giving us a Patrizia that we can empathize with, as she shows her more human side. Her commitment to this role really paid off. I completely forgot I was watching Lady Gaga, a musician who successfully transitioned from music to acting. As for Adam Driver, one of the greatest actors in the industry today. He was made to play Maurizio. My Italian family was mesmerized by their Italian accents and how on point and stable they were throughout the movie. It's entertaining and it has everything I like: comedy, drama, raw emotions, expressiveness. People in the cinema gave it a long and well deserved standing ovation when it ended. I see a great awards season coming for this movie and especially for the uniquely talented, Lady Gaga. I highly recommend everyone to see it, it was made for the big screen.
November 25, 2021
Gaga's performance stands out from the rest.
November 25, 2021
gaga saved this but the cast was phenomenal