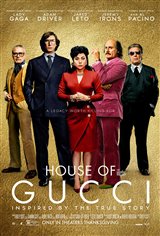 House of Gucci
| 55 Reviews
Write a Review
In Theaters: November 24, 2021
On DVD/Blu-ray: February 22, 2022
3.66/5
Based on 142 votes and 55 reviews.
Please rate between 1 to 5 stars
Showing 1-10 of 55 reviews
July 27, 2022
Lady GaGa surprised me. Leto...I had no idea the brother was played by him. I thought he was a hilarious loose screw and his accent was way better than all the others. Al Pacino and Jeremy Irons...They need work with dialect coaches, but their acting was great as expected. I had no idea about this story, but now I've looked into it and it is crazy how things spiral into this family madness.
February 2, 2022
Lady Gaga needs to stop making movies.
January 14, 2022
Was not as good as I anticipated. Was slow. Acting OK. With star power, I expected more.
December 30, 2021
Action packed, dialogue well. I hated the time line jumps.
December 29, 2021
The scenery and settings are spectacular. Both Italy and New York were spot on for the 70's and 80's. The overblown opulence of Gucci and the great soundtracks, iconic club ambience brought it all back in a way that felt true to the spirit of the times. Really enjoyed
December 20, 2021
just disgusting ,,,,,the Gucci family is evil and wicked and doesn't make me care of the famous name or feel for the women that married and threw divorced and then killed her Gucci husband, it just show in life u might have money u might have fame...if you're evil and wicked their no happy ending in life and specially in the end
December 20, 2021
Lady GaGa was Outstanding. As were all of the actors. Definitely an Oscar winning performance.
December 19, 2021
Don't waste your money. It was way too long and drawn out. I kept dosing off. Acting was okay. I was very disappointed
December 16, 2021
This was very interesting movie. I never knew that there were no Gucci family alive to continue Gucci's legacy.
December 16, 2021
What I liked was the music which set the mood of the characters and their ongoings in the elegant setting of the lavish rich, so different from mine.