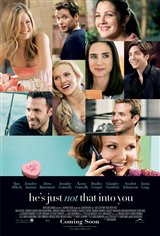 He's Just Not That Into You
110 Reviews
|
Write a Review
In Theaters: February 6, 2009
3.55/5
Based on 1139 votes and 110 reviews.
52.40%

6.97%

4.81%

14.42%

21.39%
Please rate between 1 to 5 stars
Showing 1-10 of 110 reviews
December 9, 2009
stupid
June 12, 2009
i'll give this one four stars. purely based on the last 15 minutes. I like the way the movie finished it just took a little to long to get there. I do love jennifer conolley though!!
June 11, 2009
Really boring
May 23, 2009
I was willing to give the movie a chance since the book had infuriated me so many years ago. I give credit to a great cast, but it was a horrible arrangement of unappealing storylines. Don't waste your money in the theaters, rent it maybe, but if you're looking for minimal use of brain activity, see it.
May 4, 2009
Below Average
May 1, 2009
kinda boring in the middle, but overall still entertaining to watch. sweet ending.
April 15, 2009
awesome a chick flick with a twist
March 31, 2009
I HATED this movie.. totally wished I hadn't seen it. It glorifies spousal cheating, which is the exact oposite of a movie one would want to see on their birthday with their spouse, which unfortunately I did! I only liked that it ended!
March 27, 2009
it's a really great and informative movie. Especially for single women....or divorced and are looking....trust me when I say if you have not seen the movie yet please do....you will learn a thing or two. I'm married and I sure learned things I thought never would. KJ
March 25, 2009
awesome