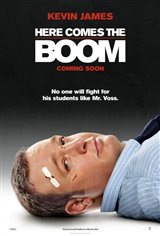 Here Comes the Boom
39 Reviews
|
Write a Review
In Theaters: October 12, 2012
4.48/5
Based on 114 votes and 39 reviews.
72.00%

18.00%

2.00%

2.00%

6.00%
Please rate between 1 to 5 stars
Showing 1-10 of 39 reviews
March 21, 2018
HIGHLY RECOMMEND AND COOL
August 26, 2015
Finally a movie that fits Kevin James perfectly! It was funny about almost all the film and it fits Kevin James perfectly!
November 16, 2014
Surprisingly refreshing and fun! Lots of laugh-out-loud moments and great UFC scenes. One of Kevin James' best!
April 5, 2014
Kevin James is really good.
April 5, 2014
Y'all are crazy!! We watched this Saturday nite with our kids and everyone in the family enjoyed it!! It was soooo good. Funny yet heart felt at the same time. Definitely 5 stars!!
April 5, 2014
I don't normally write reviews but this movie is amazing. Big surprise. Inspirational like Rocky, very funny, elements of romantic comedy, very uplifting, great values, and good action especially for MMA fans. Makes you cry and laugh at the same time. I cant believe I said that :-/
April 2, 2013
Come on! Be serious. The only way you could find this was the best comedy ever is if you've seen only 5 in your whole life or if you suffer from amnesia since last week. Its very descent and the girlfriend enjoyed it. I would recommend it if you want something light to keep you well entertained for two hours.
March 31, 2013
Best Comedy Movies Ever !!!!!!!!!!!!!!!!!!!!!!!!!
March 30, 2013
Salma Hayek hot and sexy !!!!!!!!!!!!!!!!!!!!!!!!
March 30, 2013
BEST MOVIE EVER!!!!!!!!!!!!!!!!!!!!!!!!!!!!!!!!!!