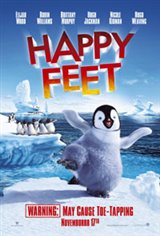 4.03/5
Based on 3491 votes and 161 reviews.
Please rate between 1 to 5 stars
Showing 1-10 of 161 reviews
September 12, 2017
Fun, good story-line, good songs, and is entertaining.
January 31, 2013
I absolutely adore this movie. Very well done
March 6, 2010
Absolutely love this movie. I cried, I laughed, I felt. I was completely moved by the characters, music, dance, and storyline. George Miller is a genius and I dream of working with him one day.
November 2, 2007
It was... Pretty deep for a kids' movie, yeah? Great, original storyline, good music, breathe-taking animation, and such.
May 22, 2007
This movie is for idiots.....why would you make a dumb ass movie with no point at all. I mean honestly who wants to watch a bunch of dancing penguins.
April 20, 2007
i loved this movie, the males keeping the eggs warm, the predator/prey scenes......all around, it made me happy...period
April 6, 2007
I kept thinking - when will it end? I am sooooo bored! We almost left after the first 40 min.. If an environmental group wants to make a statement that`s great - just don`t wrap it up in cute CG Animation and bill it as a family comedy movie. Just tell me where to mail a cheque rather than wasting my time too. My kids were bored and barely laughed. Some scenes were a little harsher than I like for my 3yr old. There was little to no storyline at all. I felt angry that someone felt that they needed to teach me about an important issue in such an under handed way.
April 3, 2007
i loved this movie so cute
April 3, 2007
i thought the movie was one of the best kid movies ive ever seen im a senior in highschool and i talk about it evryday since i seen it like two weeks ago i love that movie actually i have it in my backpack im gonna go watch it right now now with a friend for her first time the producers did a great job
April 1, 2007
terrible! no storyline!