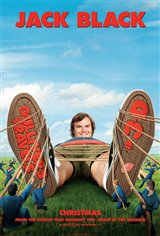 Gulliver's Travels
121 Reviews
|
Write a Review
In Theaters: December 25, 2010
3.23/5
Based on 406 votes and 121 reviews.
14.29%

29.63%

29.10%

18.52%

8.47%
Please rate between 1 to 5 stars
Showing 1-10 of 121 reviews
April 5, 2011
Gulliver's Travels is a classic tale by Jonathon Swift which 20th Century Fox decided to update with Jack Black front and centre. The result is a flimsy flick that can not hold the viewers attention and that is a waste of a viewing.
April 5, 2011
It was your average typical movie,my daughter and I thought it was just ok,worth a look.
April 4, 2011
It was a great children's movie, kept the kids engaged thoughout the whole movie!
April 4, 2011
It was just okay!
April 2, 2011
Enjoyable movie.
March 31, 2011
I'd give it one star were it not for the cast appearing to have quite a bit of fun with this mess of a film. Swift would roll over in his grave.
March 28, 2011
Suprisingly, and thoroughly enjoyed by myself and my family. Funny, sweet, and very entertaining. Not intended for very young children as some of the humor may be inappropriate and misunderstood.
March 26, 2011
This is the second time (as far I know) that Gulliver's Travels had been RE-done, it was well done, don't get me wrong, but it was boring at parts.
March 24, 2011
Brought my young five year old - some scenes not appropriate for the young but a more mature group.
March 24, 2011
This was just a totally enjoyable movie. Alice in Wonderful gone macho. Loved it. Nice get away from reality.