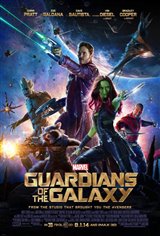 4.46/5
Based on 370 votes and 80 reviews.
Please rate between 1 to 5 stars
Showing 1-10 of 80 reviews
February 2, 2018
Funny, crazy adventure! The bunch of various antiheros including talking raccoon and tree-like alien. Sounds insane? It is but it works perfectly! It makes fun of typical cliches in superhero movies in purely brilliant way.
February 10, 2016
FUNNY, GOOD STORY, GREAT MUSIC
October 10, 2015
I LOVE THIS MOVIE SO MUCH. IT WAS SO COOL. I AM GROOT!!!!!!!!!!!!!!!!!!!!!!
February 15, 2015
That movie is awesome saw it myself 5 STARS
February 15, 2015
I really like this movie its the best ever and its really good I hope you think its good too . plus I give it 5 popcorn! I love when star lord starts dancing and the dudes like what the heck are you doing and he's like ;dancing; . lol, you should watch it!
February 14, 2015
Loved this movie and the soundtrack brings me back to listening to my mom's record collection. The costuming, characters and effects were awesome and the actors worked well together and it didn't miss a beat. Pratt is the Man! Watch this movie!
February 10, 2015
Saw it two times, funny and good
February 7, 2015
Good movie, LOVED soundtrack. this movie makes you laugh, it is very entertaining.
January 7, 2015
Guardians of the Galaxy is a masterpiece! This film has everything a Marvel fan could want. It's got comedy, action, classic music, evil villains and lovably heroes. I became a fan the moment I saw the trailer and to be 100% honest this film didn't disappoint. Guardians of the Galaxy is a great movie for the whole family, and should be enjoyed by everyone who loves sci-fi movies.
January 7, 2015
A bit out of the ordinary for me but I did love the sound track... A very well put together film... Enjoy!!