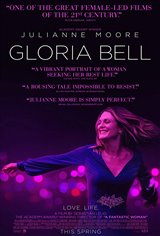 Gloria Bell
21 Reviews
|
Write a Review
In Theaters: March 8, 2019
On DVD/Blu-ray: June 4, 2019
2.04/5
Based on 52 votes and 21 reviews.
8.00%

20.00%

4.00%

4.00%

64.00%
Please rate between 1 to 5 stars
Showing 1-10 of 21 reviews
June 9, 2019
It was a good movie
June 7, 2019
A mediocre SHALL WE DANCE.
June 2, 2019
A sort of unattractive dude with a curly grey perm keeps running away from a disco dancing, last call, senior, Julianne Moore. Ya, totally believable!
June 2, 2019
Even Rita Wilson reprising her Harry met Sally BFF supporting role, from 4,000 years ago, with the same hairdo, can't redeem the shallowness depicted here... You don't even get to see the ex wife's freak, leg cutting, accident...going through the glass doors!!! Very low budget!
June 2, 2019
If old age means listening to bad radio disco and bubble gum pop from the seventies and dancing to it all over again with uninterested grey haired zombies, and you like that idea, then Gloria's for you! Super sad...
June 2, 2019
You'll wanna slit your wrists before this one ends... John Torturo as a romantic lead??? Who looked more like her kid then her kid's father??? lol Bad casting, horrific script, and novice directing can't save this train-wreck!
April 24, 2019
The worst EVER !!!!!
April 11, 2019
This was the worst movie I've seen in over a decade! Studio should compensate my for wasting my time!!!!!
April 7, 2019
Ugh, from start to finish.
April 6, 2019
Everything. No plot and Marianne Moore looking for a way to show everyone her breasts