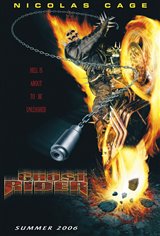 Ghost Rider
194 Reviews
|
Write a Review
In Theaters: February 16, 2007
3.95/5
Based on 4003 votes and 194 reviews.
55.16%

16.01%

10.85%

4.72%

13.26%
Please rate between 1 to 5 stars
Showing 1-10 of 194 reviews
August 22, 2016
I watched it at the theatre and then bought the DVD, so I could see it again, and again. EXCELLENT!
November 14, 2010
best freakin movie ever!!!!
August 16, 2009
this is a awsesome movie
November 30, 2008
Crap script, Crap directing. The Directing really sucked more than the script. I mean it's amazing at the horrible camera and lines. Blaze eating jelly beans out of a martini glass? WTF? What kinda retard thought that was cool?
July 24, 2008
What can you say about a movie where the best part is the opening credits sequence. Dull and forgettable.
May 3, 2008
WOW! That movie has stolen time out of my life that I'll never get back.
February 22, 2008
How boring can a movie be?
January 6, 2008
This movie was awful. Except for some occasional cool special effects, it's absolutely not worth watching.
December 16, 2007
awsom effects
October 2, 2007
wow it was the coolest movie that i ever have seen this movie was the beter than the others ones that i have see. nicolas you were amazing my family like it everybody act cooleva you are a nice person i wish to see all the actors and talk with all of them i live in el paso san elizario i am jennifer munoz.