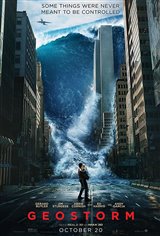 Geostorm
52 Reviews
|
Write a Review
In Theaters: October 20, 2017
On DVD/Blu-ray: January 23, 2018
PG-13 | Action, Adventure, Fantasy, Sci-Fi, Thriller | 1h 49m
3.29/5
Based on 164 votes and 52 reviews.
36.76%

16.18%

11.76%

10.29%

25.00%
Please rate between 1 to 5 stars
Showing 41-50 of 52 reviews
October 19, 2017
A relatively cheesy popcorn flick but you kind of know that going in. Not every film needs to be citizen kane and sometimes you just want to have fun.
October 19, 2017
Good special effects, but a fairly generic and predictable plot
October 19, 2017
Lots of action but not really a great movie as the plot was weak and predictable
October 19, 2017
The movie was really interesting filled with emotion and action. It reflects perfectly what s happening in the World right now and the consequences we could get. A great action and environmental movie!
October 19, 2017
It has great action and kept on track with the pace of the story. If you like doomsday action movies where they have unbeatable odds to stop natural disasters right to the wire then this is for you!
October 19, 2017
It was nice and funny.
October 19, 2017
Great Movie!
October 19, 2017
I love the movie, is very entertaining and have a lot of action kept you on your set all the time, great actors and the history. One of the great movies right now.
October 19, 2017
It was entertaining and certainly had its moments. The visuals were awesome. Though I found it to be predictible.
October 19, 2017
Kind of felt like a B movie at times, but the graphics were pretty good and there is nothing to really hate.