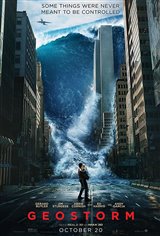 Geostorm
52 Reviews
|
Write a Review
In Theaters: October 20, 2017
On DVD/Blu-ray: January 23, 2018
PG-13 | Action, Adventure, Fantasy, Sci-Fi, Thriller | 1h 49m
3.29/5
Based on 164 votes and 52 reviews.
36.76%

16.18%

11.76%

10.29%

25.00%
Please rate between 1 to 5 stars
Showing 21-30 of 52 reviews
October 29, 2017
I rate this at 3 1/2 stars. I enjoyed seeing it on the big screen. Enough action but not too much. Not too complicated so it was easy to follow. i liked it.
October 29, 2017
Ten years ago would have been a good show. Special effects and predictable storyline very outdate. Gerard butler was good but couldn't save this show.
October 28, 2017
Great cast. Suspension of disbelief impossible. Things that could only have happened over a long period of time happen in minutes or seconds. And none of them was even possible without breaking the laws of physics. Completely uninteresting and totally predictable. No development of plot or characters. Don't waste your money.
October 27, 2017
Great premise .
October 26, 2017
very poor acting except for Gerard Butler, but not even he can save the movie
October 25, 2017
Another worthless steaming pile of cow dung!
October 25, 2017
The script left lots to be desired.
October 25, 2017
Absolutely thrilling! A must in IMAX!
October 25, 2017
this was an awful movie
October 25, 2017
I'd rather be watching Mariah's World.