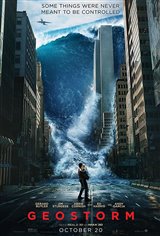 3.29/5
Based on 164 votes and 52 reviews.
Please rate between 1 to 5 stars
Showing 1-10 of 52 reviews
July 18, 2020
pretty good zazie beetz was great .
September 13, 2019
I guess if you want to waste time, it was good to sit and eat popcorn. I was disappointed. It checked off all the boxes for predictability. It was trying to be too much of a mix of the Day After Tomorrow and a who-done-it? and a Sci-Fi/space film. Of course the dad was going to be sacrificing himself to save the planet, but of course that wouldn't actually happen and of course the current captain of the ship was going to be with him right at the moment she would be needed and in her space suit (which btw the clock was at like 2.5mins and he got his whole space suit on and still had 1.5mins to go?!?!?!?!) Of course we are led to believe the other brother's GF/Fiancee might be involved, funny how she is so stern on her secret service duties but the guys says I know thi sis asking too much to do "X" which is completely against any laws and she doesn't even put up an arguement and agrees to it...and does this a few times and each situation is worse than the last!!!!! Strong female character in only the role she played as a Secret Service Agent, otherwise what the bf says, she did without question. I'm sorry I don't see Gerard Butler character as the guy who designed the whole idea and knows it inside and out. He'd be the worlds smartest uber-genius. And really, 17 countries got together and built all that within how long??? Ya right. Some effects were not good. And some were, of course, ironic for the area they were happening...of course desert areas get flooded or instantly frozen and tripical places get the blazing sun.
April 2, 2018
Good story, like it being on the sci-fi, technology wise... Overal good family movie....
March 17, 2018
I don't know who these crazy people are that rated this movie and said it was no good it's one of the best I've ever seen. The acting was superb. The effects were superb. I would give it 100stars if I could And I would also say I need to get some new critics.
January 26, 2018
Fake looking buildings. B film. B actors. Gerard is still an an A actor though. WHY I STRUGGLED to watch it to the end.
December 30, 2017
It was okay. The action took very long time to come. This one almost look like a continuation to London Has Fallen. The cast was okay.
November 24, 2017
Good movie. Unrealistic, but that's Hollywood.
November 17, 2017
totally rubbish,unworthy of the cellulose it`s developed on
November 17, 2017
Preachy, boring, and been done to death. Left early snuck into another show.
November 14, 2017
At first I was hesitant to see this movie based on all of the negative reviews but after reading the many positive reviews, I decided to give it a chance (on a Tuesday) and was quite happy I did. Yes, it has its flaws but most films do. I really enjoyed it.