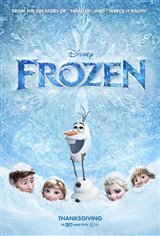 Frozen 3D
77 Reviews
|
Write a Review
In Theaters: November 27, 2013
4.33/5
Based on 182 votes and 77 reviews.
58.89%

30.00%

3.33%

1.11%

6.67%
Please rate between 1 to 5 stars
Showing 1-10 of 77 reviews
June 25, 2014
I don't know what people that don't rate this a 5 expect. Instant classic. Bringing in a new age of Disney movies that IMO started with Tangled (although this is better). If you have any doubts, try finding Frozen merchandise. Even the Disney website has troubles keeping stock.
March 4, 2014
This is by far the best Disney Movie, If not the best movie EVER! Disney has really out done themselves with Frozen. Love the idea of family love and the magical powers in it. BEST MOVIE EVER!!!
January 27, 2014
Fantastic movie. Couple of rough narrative speedbumps, but so many other moving parts are working effortlessly, you hardly notice the hiccups until after the ride's over, and the cynical part of your brain re-engages. Definitely a new Disney classic!
January 20, 2014
It's alright lots if subliminal messages.
January 17, 2014
Loved this movie!! Disney really blew this one out of the park! Young or Old you're going to love this sweet story. It's a definite see in the theater type of movie!
January 5, 2014
awesome movie for all ages
January 2, 2014
A collective moral artistic masterpiece, fit for all ages.
December 31, 2013
my best friend my sister and me all went to see it it was a great movie and the whole class is buzzing about it. Great songs as well.
December 31, 2013
To be honest this left me cold.
December 31, 2013
It was an awesome movie. It had catchy songs and a great over all lesson.