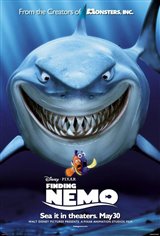 4.24/5
Based on 8821 votes and 338 reviews.
Please rate between 1 to 5 stars
Showing 1-10 of 338 reviews
October 11, 2018
The breakthrough computer animation of Finding Nemo is the ultimate viewing experience and the winner of Oscars for Best Animated Feature of the year!
September 6, 2011
whoever that person is who said that we even used a clip of at in science class at burnsview secondary school, i know who you might be, because i am also a student of burnsview secondary school and we even used a clip of it in mrs. schiebels 2010/2011 block g grade 8 class. and i also love this movie. i just sit back and relax and enjoy the movie every single time i see it. it is a hilarious movie. all the Walt Disney movies are on my favorites list!
February 16, 2011
i seen the movie it is a hilarous movie we even used a clip from it in my science class at Burnsview Secondary School
July 8, 2010
perfect animated movie! my favourite pixar film! ellen for dory was genuis!!
October 11, 2006
I am a fan of all the old animated films, but I loved Finding Nemo. It was funny, heartfelt and cute. Anyone who appreciates a good cartoon will love this movie.
August 22, 2006
This is such a good movie. I can watch it now and still love it as much as the first time I saw it!!
July 27, 2006
Very funny! Ellen Degeneres rocks! She is so funny! JUST KEEP SWIMMING!!! 5 stars
June 24, 2006
Finding nemo is so gooooog!!!! it is a good show!!!
June 3, 2006
THis movie is amazing. My whole family really enjoys it !!! Nemo is totaaly awesome.
September 28, 2005
I LOVE FINDING NEMO IT ROCKS!!!!!!!!!!!!!!!!!!!!!!!!!!!!