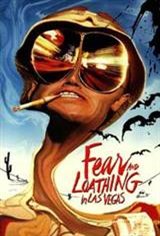 Fear And Loathing In Las Vegas
23 Reviews
|
Write a Review
In Theaters: May 22, 1998
4.68/5
Based on 455 votes and 23 reviews.
82.50%

10.28%

2.50%

1.94%

2.78%
Please rate between 1 to 5 stars
Showing 11-20 of 23 reviews
July 12, 2004
AWESOME movie! IF you dont like if you must not understand how it really is! One of Johnnys best! I LOVED IT!!
June 13, 2004
awesome movie. absoloutly hilarious. johnny depp is wicked in it. first 45 minutes are the best but the rest is awesome as well!
June 10, 2004
Very Very cool. I mean it`s a Johnny Depp film it`s gotta be just da best!
May 21, 2004
IT WAS AWSOME
April 14, 2004
great movie!!! love love it!!!
March 27, 2004
Crazy movie...Get ready to Party Afterwards!!!
March 6, 2004
favorite over the top craziness movie! loved the whole thing, but husband says first 15 minutes is the best. why cant you find it in any of the video stores?
February 26, 2004
This movie is the ultimate!!!! So funny the things that happen to them along the way. Its amazing and i cant get enough of it!
January 31, 2004
the only worth while party of this movie was johnny depp
September 24, 2003
one of the best movies i have ever seen. and it makes it even better that there is some truth to real life in it