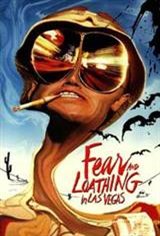 Fear And Loathing In Las Vegas
4.68/5
Based on 453 votes and 22 reviews.
Please rate between 1 to 5 stars
Showing 1-10 of 22 reviews
May 27, 2007
One of the most hilarious and asinine movies ever produced. My gut still hurts from laughing. Thank science for acid! As usual, Johnny demontrates that he can play any kind of character he sets his mind on since he doesn't care to become type-cast- with possibly the exception of his playing Capt. Jack Sparrow (although that franchise is probably ending soon). Because Johnny's character and the movie's plot are so bissare and over the top, I highly recommend watching it.
January 10, 2007
its a trip,man.
September 27, 2006
Wow. Don`t drink and watch this movie at the same time. Or better yet do. Depp`s acting is top-notch.
May 8, 2006
brilliant it will change they way you look at movies, the world and your life
December 27, 2005
It is the best movie ever.Del Toro and Depp were great together.
August 5, 2005
Loved it. I just loved how close to the book it is.
July 13, 2005
one of the best movies that i`ve ever seen... Johnny Depp was amazing his acting is funny and incredible. after seeing the movie i read the book and it was amazing as well
November 1, 2004
Based on Hunter Thompson`s memoir, this film is a sometimes hilarious and sometimes excruciating documentary on how too much drugs and alcahol can suck you into another world. The only reason I rate it a four is because maybe Terry Gilliam couldve focused on the the men`s brief life outside of drugs as well. You can also find Johnny Depp and Christina Ricci together in Sleepy Hollow.
August 20, 2004
the best depp film i have had the privilige to watch. Del Tores putting on 40 pounds to be the Somoan pig lawyer was an actors worst nightmare, because he had to lose the weight to do other movies, but still he did it anyway just to be in the movie. My god what madness taking place in "Fear and Loathing in Las Vegas".
July 12, 2004
AWESOME movie! IF you dont like if you must not understand how it really is! One of Johnnys best! I LOVED IT!!