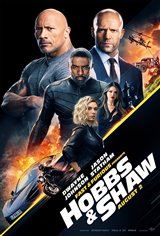 Fast & Furious Presents: Hobbs & Shaw
| 83 Reviews
Write a Review
In Theaters: August 2, 2019
On DVD/Blu-ray: November 5, 2019
3.63/5
Based on 288 votes and 83 reviews.
Please rate between 1 to 5 stars
Showing 1-10 of 83 reviews
June 26, 2021
Good flick with lots of action, stunts, and humor. A great way to escape for an hour or so. The CGI is amazing. Dwayne, Jason and Idris make a great team. Bring your popcorn and enjoy. Hope they do a follow up.
November 7, 2019
i thought it was laugh out loud funny. yea some of it was predictable but that why i watch movies it to entertain not to pick apart . I would highly recommend it to any one that likes action with humor .
October 31, 2019
loved it
October 9, 2019
If you want to see a buddy cop movie, go see Tango and Cash. This movie was all action but the plot was predictable and insanely outlandish. It's eye candy for those who only like CGI and like to see the entire movie fall together and wrapped up in a nice bow. For me, i'd see Rambo all day long over this.
September 28, 2019
PLEASE stop makin this crap
September 27, 2019
Hobbs and Shaw Awesome! The banter back and forth plus both actors are just enjoyable to watch. Idris Alba is an added plus to this movie. They just all worked well together to make it an enjoyable movie. Great entertainment!
September 24, 2019
It's Tango & Cash without the heart.
September 24, 2019
love the new twist and the Samoan culture they added on this film. Perfect! 💕
September 23, 2019
Very old, and I mean both actors, I love idris alba, his talents was wasted here, I'm glad I didn't pay for this crap, don't waste your hard earn cash.
September 19, 2019
A good action packed movie. Enjoyed the story line. Worth seeing again. The Rock and Jason did will together.