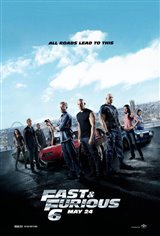 Fast & Furious 6
84 Reviews
|
Write a Review
In Theaters: May 24, 2013
4.22/5
Based on 226 votes and 84 reviews.
71.43%

8.57%

1.90%

6.67%

11.43%
Please rate between 1 to 5 stars
Showing 1-10 of 84 reviews
January 11, 2014
1 word 2 words infact flawles action
October 18, 2013
Fantastic action movie
August 5, 2013
awesome
July 20, 2013
IF you're looking for an Oscar-worthy performance from any of the stars, then look elsewhere. IF you're looking for a couple of hours of suspended believe, hot cars, lots of speed and action, then buckle up, Fast & Furious 6 is going to take you for a heck of a ride! --- This is the type of film that can build a huge fan base, just like the few of us who love Elvis movies. On the surface, they're terrible movies, but HIGHLY ENTERTAINING.
July 8, 2013
Makes the JACKASS movies look clever.
July 8, 2013
BY THE 6TH movie.. you should know with all the actors and storylines that all become intertwined with vin diesel and jordan brewster... THAT IT IS FOCUSED ON DECKED OUT CARS AND STUNTS AND FAMILIA. these stupid people rating it one star, i promise you are indeed stupid or watching fast 6 as their first ff movie.
July 7, 2013
Was Great
July 2, 2013
I love these movies to death. I'm a big car guy and seeing flash backs of some sweet cars is pretty cool. The story line is keeping me on the edge of my seat the whole time. Love the action scenes and car chases. Must say though, seeeing FAst and Furious 6 has me wondering where Toyko drift fits in the this series still.
June 27, 2013
so cool
June 20, 2013
Go for the action, stay for the romance!