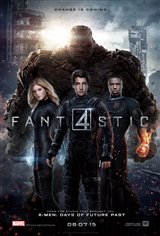 Fantastic Four
62 Reviews
|
Write a Review
In Theaters: August 7, 2015
2.32/5
Based on 452 votes and 62 reviews.
27.66%

4.26%

1.60%

5.85%

60.64%
Please rate between 1 to 5 stars
Showing 1-10 of 62 reviews
July 16, 2021
Hollywood doesn't know how to do this property right and they should stop trying. For Reed Richards they cast a guy who looks like he's been getting his face pounded in his whole life. Not good.
June 8, 2018
It's great!
November 12, 2017
Best superhero movie ever.
November 11, 2017
Third time is definitely the charm for the Fantastic foursome! 5/5
January 12, 2016
The the story line sucked, was hoping for a lot more.
January 3, 2016
low budget, and very lame
November 29, 2015
Jordan makes for a far more successful Human Torch than bastard son of Apollo Creed. Maybe the best comic book movie yet. 5/5
November 28, 2015
This movie was awful... There is a lot of generic fake 5 stars reviews in here...
November 16, 2015
Don't eat before seeing this... you're going to loose your lunch...
September 5, 2015
Boring, slow, unoriginal. As bad as the first. PS IGNORE the FALSE 5 STAR Reviews.