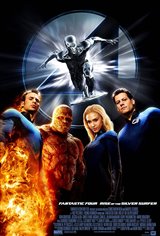 4.44/5
Based on 14170 votes and 117 reviews.
Please rate between 1 to 5 stars
Showing 1-10 of 117 reviews
July 14, 2011
Even better than the last one! Marry me, Jessica Alba! :)
July 9, 2010
i wanted to see galactus!!!
July 5, 2008
Liked the story. What I didn't like was why they insist on Jessica wearing blue contacts, they make her look freakish. Next, the CGI of the Silver Surfer could have been better. Besides all that, overall, it was a pretty good movie.
May 12, 2008
very bad acting terrikble for children
February 22, 2008
Even though I enjoyed the first one more this was great.
October 21, 2007
I would give this film less than one star if i could. If i were 12 I might give it 5 stars.
October 8, 2007
I thought it was a good movie. Next time Doom needs to be more tougher in the films instead of getting defeated in mere minutes.
August 29, 2007
This stellar follow-up to the action hit deserved a much better transfer on dvd. The film is so washed-out that Sue Storm isn't the only one who looks invisible...
August 27, 2007
quite good, especially the surfer character, definitely something new ..spices up the movie, amazing special effects.
August 26, 2007
Even though I thought this movie was better than the first, it still didn't impress me much. What I want to see in the next movie (if there is a next movie) is the Fantastic Four actually saving citizens and not just always saving the world in whole. All the other superheroes save civilians as well as the world, why can't they? Finally, this was the only Jessica Alba that I thought she did not look hot in. I don't know what it was, but she didn't look as hot. 3 stars/5 stars