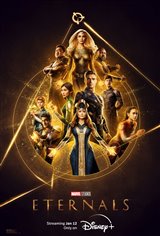 Eternals
51 Reviews
|
Write a Review
In Theaters: November 5, 2021
On DVD/Blu-ray: February 15, 2022
3.42/5
Based on 194 votes and 51 reviews.
52.38%

3.57%

3.57%

14.29%

26.19%
Please rate between 1 to 5 stars
Showing 41-50 of 51 reviews
November 8, 2021
This movie should never have been made. Waste of money and time. About as original as a hydroxy "oreo"
November 7, 2021
These Marvel movies are all starting to blur together...
November 7, 2021
Great storyline
November 6, 2021
I loved this movie, awesome special effects!!! It is GREAT to be back at the movies
November 6, 2021
It's Salma Hayek so count me in.
November 5, 2021
Snooze-fest. There were a few laughs but I really did close my eyes a few times and just relaxed. Nothing to see. Tries too hard to be emotional. Kinda sappy for my taste. Too much back story and not enough story. Some movies you watch over and over. This ain't one of them. Once is more than enough. Nice visuals, though.
November 5, 2021
This was so much fun. Exciting, entertaining, and visually stunning. Man the critics suck. If you did not enjoy watching this then you really have no joy in your heart.
November 5, 2021
I'm not into this genre; so it was a waste for me. But lots of people in the theatre loved it.
November 3, 2021
It's the year's best movie.
October 31, 2021
The best Marvel movie.