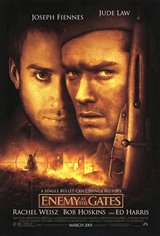 3.58/5
Based on 16034 votes and 7 reviews.
Please rate between 1 to 5 stars
Showing 1-7 of 7 reviews
February 2, 2009
Although this film in parts is fictional (in its romantic plot and there was never was a German Major by the name of Konig despatched to Stalingrad) - the way it has all been put together and how it evolves is entirely credible, the sets are nothing short of brilliant, there should have been awards all round for this one. Excellent acting and script, my only critisism is that whilst Bob Hoskins - playing Nikita Sergeyevich Khrushchev and make-up made a brilliant job in making him actually look like the young Khrushchev - I feel Hoskins let himself down slightly with strands of his London accent coming out - although in his acting he was historically true to form in his representation of the
January 10, 2005
THE B EEEEEEEEEEEEEEEEEEEEST!!!!!!!!!!!
November 8, 2004
Excellent war movie that touched emotions at the core. The unpredictable turn of events and the portrayal of man`s inherent nature of self interest was depicted so well. The intimate love scene between Tanya and Vasilli was so touching.
April 18, 2004
Slightly dull, yet sudden gory moments. The acting was good, and the cast delivered. Just not the best I have seen.
July 5, 2002
The Enemy at the gates was a wonderful movie filled of action, sadness ,and comedy. This movie showed greatly how dificult it was to live in the war time. I loved that it was not predictable and anything could happen next. This movie had a excellent cast with great preformances by Joseph Fiennes and Jude Law. This intense adventure was also filled with romance, that was very well writen into the plot. History played a major part in creating this film and it was very well investigated to deliever the truth about the war. This amazing movie deserves many awards for it`s plot, script, acting, special effects, and camera work. I give thi
June 2, 2002
This was a wonderful movie. Historically accurate and amazing. It digs deep down to the war and shows how people tried to stopit. it gives you a sensation of hope. It proves that loved ones, freedom and a country are worth fighting for at any costs. we all know that, but now we realize it a little more. Jude Law is great! He has the piercing blue eyes as that of a sniper. Joseph Fiennes is amazing! He makes you cry and laugh. Both actors make you feel as you never have before. The intense movie gives you a feeling, a knowing, that we live in a great country that is worth fighting for at any cost.
December 19, 2001
I thought it was a very well written, historically accurate movie. I gave it five stars. One of the best movies I ve seen in a long time.