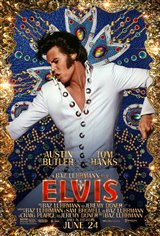 Elvis
| 248 Reviews
Write a Review
In Theaters: June 24, 2022
On DVD/Blu-ray: September 13, 2022
4.61/5
Based on 712 votes and 248 reviews.
Please rate between 1 to 5 stars
Showing 1-10 of 248 reviews
October 9, 2022
THIS MOVIE WAS OUTSTANDING!!! THE ELVIS ACTOR WAS BEYOND EXCEPTIONAL!!!! TOM HANKS NOT SO MUCH BUT ACTING WAS GOOD. I WILL WATCH IT OVER & OVER!!!! BEYOND MY EXPECTATIONS!!!!
September 26, 2022
Man, I waited to see this on streaming and now there's going to be a release on physical media?! Not fair!!!
September 16, 2022
A rages to riches true story that will make you cry. See the movie with someone you love
September 15, 2022
I'm 74 years old and I came out of this movie feeling young. Austin Butler's singing ability and the moves to go along with it did something to me. He is a genius in this movie. He has revived Elvis and I am so grateful. Great Job!
September 15, 2022
Love this movie,Austin Butler is defitinley Oscar worthy,(whole movie is)..Saw 7 times & ordered DVD..Elvis left his mark on the world & never will be forgotten!Just think he thought nobody would remember him!!Ha was he ever wrong!!Hope he is looking down & singing If I Can Dream.Love you Elvis??
September 10, 2022
Emmy award for this great movie
September 8, 2022
Like some of the music-disliked it was partly narrated and jumped around.
September 7, 2022
An outstanding performance by this gorgeous guy who actually looks like Elvis. The actual story of how this phenomenal talented artist became a legend. I absolutely loved it.
September 5, 2022
I've seen it three times, and want to see it again. Austin Butler disappears into the role! I'd like to see it in IMAX.
September 5, 2022
I really enjoyed this movie. I did not know that Tom Parker treated Elvis's mom and dad so mean. I didn't know Elvis's mom drank either. The whole movie was wonderful.