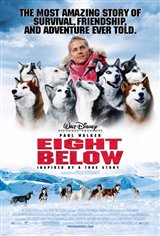 4.43/5
Based on 3732 votes and 349 reviews.
Please rate between 1 to 5 stars
Showing 11-20 of 349 reviews
July 3, 2006
it was a great movie
July 2, 2006
I have 4 Siberian Huskies of my own. It was so hard not to confuse mine with the ones on Eight Below. They are identical to Max, Maya, Truman and his twin. I cried from the moment they left the dogs behind to the moment that they found them. I felt as my dogs were going through the whole ordeal without me. This movie is amazing. I recommend this movie to anyone but beware of the tears those of you true animal lovers.
July 1, 2006
The best movie ever...I love this movie..so touch....count on oscar
June 29, 2006
Incredible, flawless. Walker is really doing alot with his career lately. The dogs were great. Can`t say enough about it.
June 26, 2006
I would give this movie a 5 star rating it was a very well acted and put together movie.
June 24, 2006
WHOEVER TRAINED THESE BEAUTIFUL DOGS .......YOU DESERVE TO HAVE YOUR NAME CARVED IN GOLD !!! EXCELLENT WORK BY THE "KIDS". I WANTED TO REACH OUT AND GIVE THEM ALL A BIG BEAR HUG !!!!!! EXCELLENT MOVIE COULDNT HAVE BEEN DONE BETTER.
June 23, 2006
I thought that Eight Below was a wonderful story about family and survival. I would recommend this movie to anyone who is a animal lover. Having a dog myself really touches home how much a person would actually do for their animal companions.
June 23, 2006
What a great wholesome movie that the whole family can enjoy, sad but children need to learn that nothing always turns out the way we want them to( what a meanie I am eh?). Great movie, great sceneny. HIghly recomended.