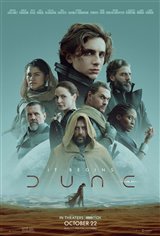 Dune
| 89 Reviews
Write a Review
In Theaters: October 22, 2021
On DVD/Blu-ray: January 11, 2022
3.55/5
Based on 256 votes and 89 reviews.
Please rate between 1 to 5 stars
Showing 71-80 of 89 reviews
October 24, 2021
Loved this movie, not familiar with the story line but will read up on it now..looking forward to the next one!!!
October 24, 2021
DUNE Movie critique: Many times the loud whispering is unintelligible. Did not enjoy film at all. Starts in the year 10,000 something, and opening scenes show todays normalcy and utensils at the table, and a surly little brat as son making demands on mother. What's different here? Did not get the theme at all except some in rags and some in phony looking suits of armor were always fighting. The 'Dragon Fly' choppers are a bust! Waste of money on both sides of the screen. Spend your money on 'The Last Dual' instead. Dune has great visuals and cinematics however. And the shields is a joke. The film presentation was dark with low levels of lighting such that you can't disseminate what is happening in the scenes. Lastly, the 500 or so piece orchestra completely dominated the sound track so strongly that at times it was extremely irritating, with extended periods of loud, obnoxious tone. Can you imagine 500 instruments playing the same tone at 100db for nearly a minute? As a rating in a one to 10 scale, 10 being a great, it's a three, maybe a 4. I'm sure fans will add to this or denigrate it, but all in all it's Bla!
October 24, 2021
The biggest letdown was the sandworms, which looked computer-generated.
October 23, 2021
I went in thinking I would not like it - but I enjoyed it 100%. The script was written a little bit more to the understanding of the original one. GO - you will like it
October 23, 2021
One of the best remakes out there, but still falls short of the original.
October 23, 2021
This movie may not be for everyone, but if you are a fan of the book, this is the best production of Dune on the big screen to date. Compared with Lynch's 80s version, this one by Villeneuve is more coherent, less cheap-looking and has better characterization overall. One caveat though is that the movie really only covers half the book. Its slow meditative nature may turn some off, but if you're patient it is full of nuance and is exciting when it needs to be. The cinematography is exquisite.
October 22, 2021
Dune is such a classic book and a sci fi staple. I defiantly suggest reading the source material first. This is a wonderful movie. Like Denis previous works this is visually stunning!
October 22, 2021
The casting is great, and the acting is good. I know too much explaining in movies is a no no, but by avoiding it, avoiding exposition, the movie is missing out a lot of the story. Not every thing can be conveyed subtly.
October 22, 2021
It's a good looking movie but has problems. For people who did not read or enjoy the books may find it confusing and even boring. For people who read and enjoyed the books may dislike the changes and omissions of the details that made the Dune stories iconic. Certain characters were not even introduced like Irulan and Feyd. And Peitr has very reduced role.
October 21, 2021
I liked this movie. It's the first post pandemic movie that is actually pretty good. The acting is good, cinematography is amazing, sound track also amazing and the plot is seamless. I was expecting a David Lynch ending but there is more to come. So far this is the movie of 2021 to see.