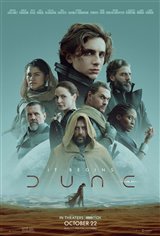 Dune
89 Reviews
|
Write a Review
In Theaters: October 22, 2021
On DVD/Blu-ray: January 11, 2022
3.55/5
Based on 256 votes and 89 reviews.
39.84%

12.20%

21.14%

17.07%

9.76%
Please rate between 1 to 5 stars
Showing 51-60 of 89 reviews
November 2, 2021
You can definitely see the family resemblance between Chani and her father, Dr. Kynes. It made the story that much more real I thought.
November 2, 2021
Kyle MacLachlan, the known universe needs you...
November 1, 2021
Best ever version of Dune! I expected nothing less from Denis Villeneuve. Remember, there is SOOO much action in the second half of the book. The cinematography and acting were superb. Timothee Chalamet was wonderful. I can't wait to see the final film.
October 31, 2021
Chalamet was so wrong for this and unfortunately his miscasting outweighs the movie's attributes.
October 31, 2021
I enjoyed this story from the moment it began until the end. Many of my favorite actors were in the movie including Jason Momoa who made this a delightful movie experience. Rebecca Ferguson stole the show. The other strong women characters gave the story dimension. Thank you for casting a fun group of actors. I'm going to see this movie again.
October 31, 2021
Fantastic visuals. Unfortunately Chalamet cast as Paul was a mistake. Too skinny, not a leader-type actor.
October 29, 2021
It's fun, but the original is still best. Cast was very impressive in the remake, especially Jason Alexander as Duncan Idaho.
October 29, 2021
The best family film of the year. Don't miss it.
October 28, 2021
Did they ride the sandworms for real...?
October 28, 2021
absolute unit of a movie