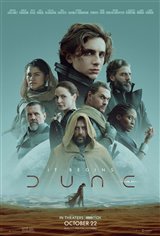 Dune
| 89 Reviews
Write a Review
In Theaters: October 22, 2021
On DVD/Blu-ray: January 11, 2022
3.55/5
Based on 256 votes and 89 reviews.
Please rate between 1 to 5 stars
Showing 41-50 of 89 reviews
November 10, 2021
Original was great - we don't need a remake.
November 10, 2021
Why do remake GOOD movies? Stick with the original.
November 9, 2021
This is NOT a 'remake' of an 'original version'. It is a new film adaptation of the novel. It is NOT a 'superhero' movie or MCU film for kids. This is a sci-fi film for grownups. There will be a next chapter, just like there was for The Empire Strikes Back and The Fellowship of The Ring.
November 9, 2021
This is not a family friendly movie and we do not recommend it. We are superhero fans, but this was not a good representation of what typically is considered superheroes. Special effects were good, but it was slow moving and disjointed…plot was all over the place.
November 7, 2021
Producers of this remake were obviously hoping to piggyback off the publicity surrounding the release of the original DUNE on 4-K blu-ray for the first time. This retelling is not so much a bad movie as it is an unnecessary one.
November 6, 2021
Timothee Chalamet is a poor Paul Atreides.
November 6, 2021
Beautiful set pieces. The special FX were quite life like and the practical effects were very well done. Good start to the story of Dune.
November 3, 2021
Visually this movie is excellent, but the sound quality was poor. It seemed like the majority of the actors were mumbling throughout the movie. My friend remarked on this as well after the film. I look forward to seeing this film on either DVD or Blu-ray with subtitles.
November 3, 2021
acting not great, long boring
November 3, 2021
BORING AND LONG! SPECIAL EFFECTS ARE GREAT THOUGH! THIS IS ONLY PART ONE AND SORRY TO SAY I WON'T BE SEING PART TWO! ONE HAS TO BE IN A CULT FOLLOWING OF THE OLD MOVIE TO ENJOY THIS ONE!