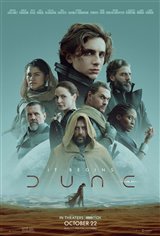 Dune
| 89 Reviews
Write a Review
In Theaters: October 22, 2021
On DVD/Blu-ray: January 11, 2022
3.55/5
Based on 256 votes and 89 reviews.
Please rate between 1 to 5 stars
Showing 1-10 of 89 reviews
February 15, 2022
A pale imitation of a far superior original.
January 12, 2022
Great to be able to have movies with this type of content...
January 8, 2022
Captures the key moments very well. Only one minus: Liet Kynes.
December 27, 2021
Beautifully done!
December 13, 2021
Marvel stans are review bombing this great movie, it seems. Just because it doesn´t have childish jokes inserted in the most inappropriate moments doesn´t mean it´s a bad movie. This is real cinema, not some stupid CGI mess with CGI costumes like MCU.
December 6, 2021
The original was so much better, but this wasn't terrible.
December 5, 2021
I echo the sentiment of some other reviewers - I also find the overall brightness of the images on the low side. Especially indoor scenes, where I felt I was straining my eyes to see what was happening. Otherwise, the film was well acted and directly. Special effect and outlandish gadgets are good. I like the film well enough that I will buy a Blu-ray DVD set down the road so I can watch it again - with increased brightness on my home screen.
December 3, 2021
As a fan of the novels and the first movie version, I had reservations. They were unfounded! The complexity and nuance of this version need make no apologies, it delivers an excellent sci-fi movie that takes time for characters and plot to develop. Can't wait for the second instalment.
December 1, 2021
The cinematography was excellent, the direction and adaption were superb. I couldn't have asked for a better movie.
November 28, 2021
This version of dune is the best adaptation of the book to date. Enjoyable but sets could have been better lighted and detailed.